The expert in outdoor cooking & fires

Pay afterwards with Klarna
November korting bij het VUUR LAB. 5% discount on the entire webshop* - Use code WinterBBQ5

The expert in outdoor cooking & fires

Pay afterwards with Klarna
What are the advantages and disadvantages of cast iron?
A cast iron pan will last a lifetime if properly maintained.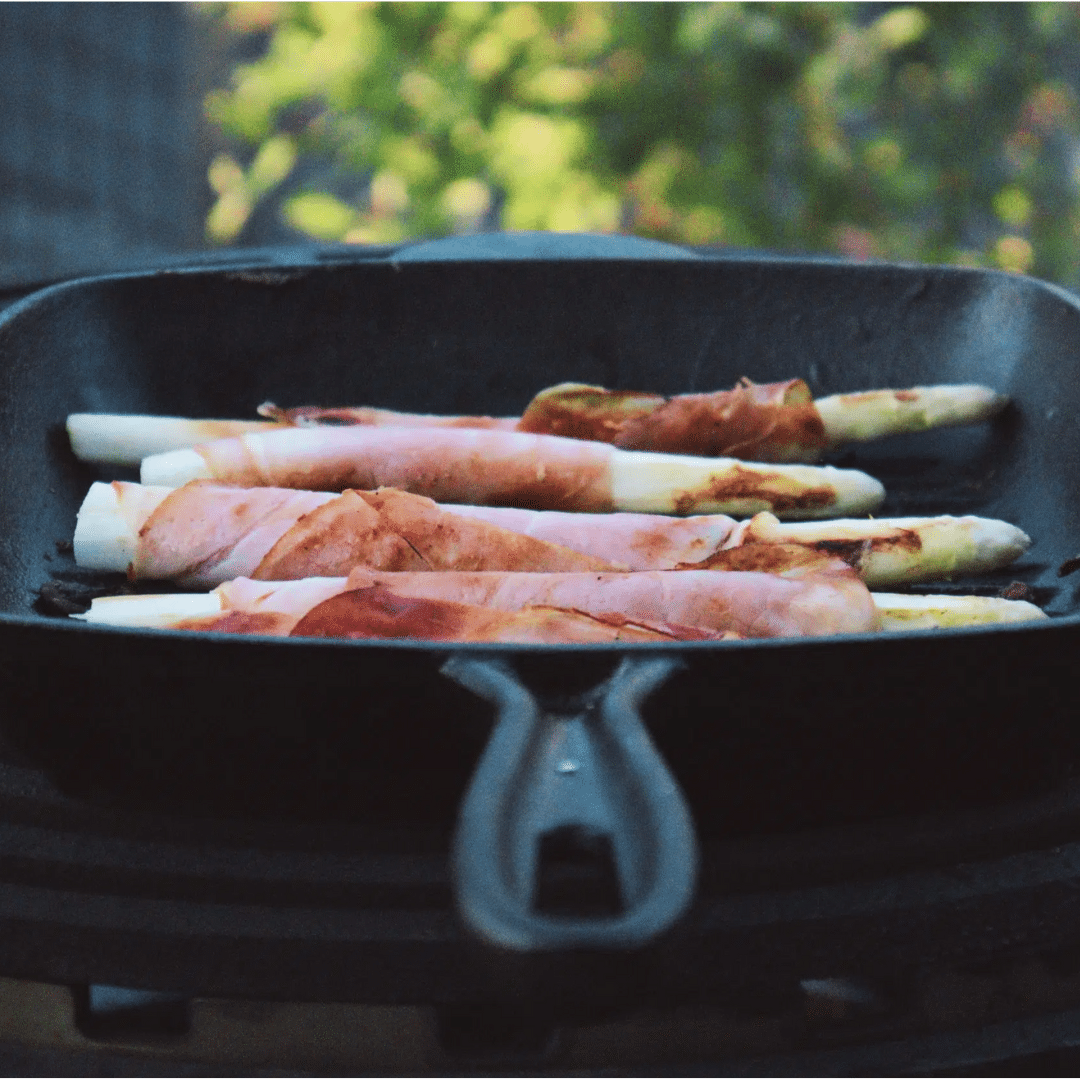 The advantage of cast iron is that it is a pure product with no chemical layers. Cast iron therefore does not have a bad non-stick coating!
Cast iron requires hardly any maintenance.
Choose from the VUUR LAB.'s wide range of cast iron pans and bake with extra fun from now on!
Advantages of cast iron
Like any material, cast iron has advantages and disadvantages. Although they require more maintenance than a normal non-stick pan, they have unique advantages that make them so popular.
View the cast iron pans in our collection
For example, you can choose from a cast-iron grill pan, sizzler pan, grizzler pan, skillet pan Or a waffle iron made of cast iron!
Cast iron remains at temperature for a long time
It does take a while for a cast-iron pan to heat up, but when it is hot, it stays that way for quite some time.
A casserole is therefore preferably made of cast iron. You can stew/roast dishes nicely at a low temperature.
A frying pan made of cast iron is basically indestructible and can last a lifetime. However, you should of course be careful with temperature shocks and not drop the pan on the ground, as a cast iron pan is porous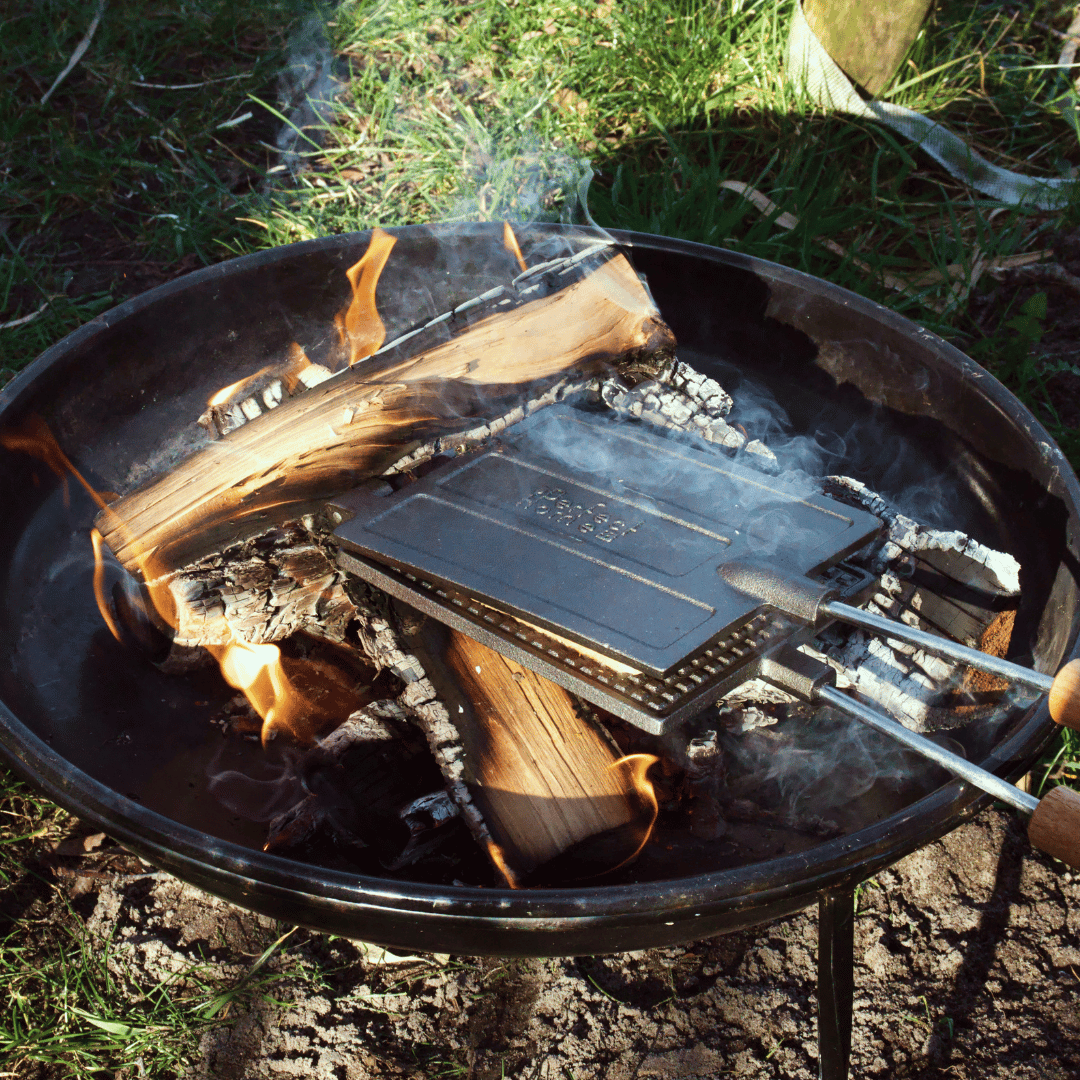 Disadvantages of cast iron
Cast-iron pans are heavier than an ordinary frying pan. They are therefore less suitable for shaking the pan. Throwing a pancake does require some strength and definitely good to do it with two hands on the handle, for example!
REMEMBER:
A cast iron pan must absolutely not be dropped, as it may break.
You also have to watch out for big temperature differences. Unfortunately, you cannot go from very hot to very cold with the pan in one go; this will crack the cast iron!
Cast iron maintenance
A cast iron pan does require more maintenance than a 'regular' frying pan!
Your cast iron pan should never be completely dry; you can prevent this by rubbing a little oil into the pan after washing.
As there is no chemical non-stick coating on the pan, you need a bit more oil when frying.
Protein-rich dishes stick a bit more in a cast-iron pan. So always fry high-protein meals with a little more oil than you are used to .
Over time, the cast iron pan a natural non-stick coating!
How should you roast cast iron?
The easiest way to fire up your cast-iron pan:
Clean the cast-iron pan thoroughly with water and washing-up liquid
Then dry the cast iron pan thoroughly
Drizzle a tablespoon of flaxseed oil/oil into the pan. Spread the oil well all over the pan both inside and outside. Make sure you distribute the oil evenly so you don't get any drips anywhere. The end result is a thin layer of oil over the entire cast-iron pan
Wipe the cast-iron pan with kitchen paper to make sure there is no extra oil anywhere on the pan/also in the 'pores'
Put on the oven and set the temperature around 200 degrees
Cover your oven tray in advance with aluminium foil and place the cast-iron pan upside down on the oven tray. The aluminium foil will ensure that leftover oil is caught.
You can leave the cast-iron pan in the oven for about an hourLet the cast-iron pan cool well afterwards. After that, your cast iron pan is ready to use!
How do you clean your cast iron pan?
A cast-iron pan is best simply cleaned with a little water and a soft sponge. If the pan is very dirty, you can use a little soap, but make sure you rinse it well. Do not (preferably) use a hard sponge or harsh soap. This can damage the natural non-stick coating.
Another possibility is by heating the cast iron pan briskly
Once this heat in the cast iron pan exceeds 115 degrees, the bacteria will be killed and the pan will be sterile.
Due to the high temperature, any food residue will loosen from the pan and all you have to do is wipe it with a cloth.
One last tip:
You can also put a little coarse sea salt in the cast iron pan and then heat. NOTE: Use large grains of sea salt.
As soon as the cast-iron pan starts to smoke, you can use a cloth or kitchen paper to scrub the pan clean with the salt! You will see that the salt discolours. After scrubbing, discard the salt and wash the pan with water. Then put a drop of oil (preferably peanut oil, not olive oil!) and wipe it all over the cast iron pan with a kitchen paper.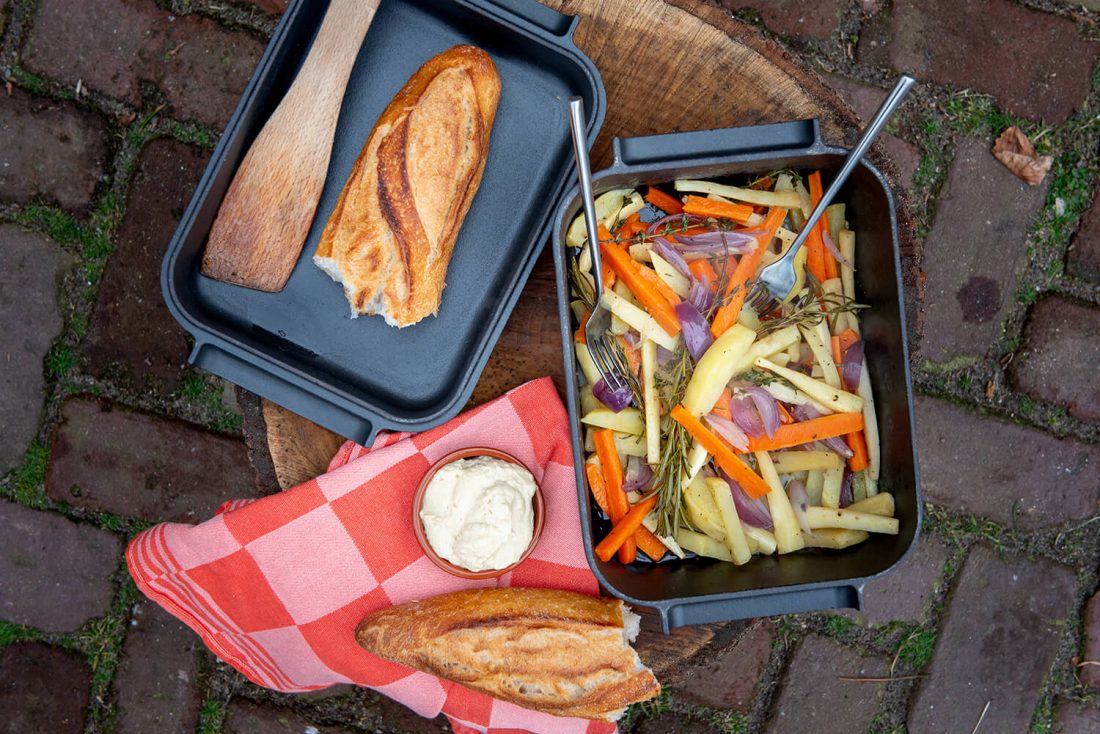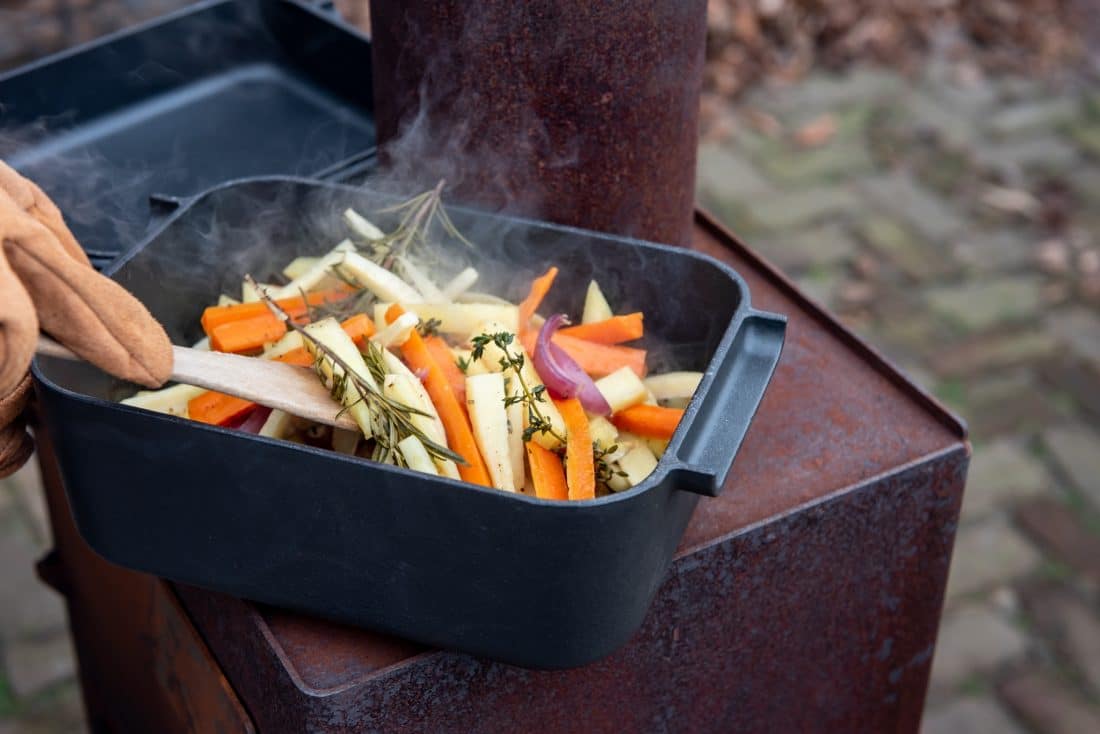 Using cast iron in the pizza oven
A cast iron pan is very good to use in an ordinary oven but also in a real pizza oven. Check out the collection of pizza ovens and matching cast iron pans.