The expert in outdoor cooking & fires

Free shipping from €75

Pay afterwards with Klarna
March discount at the Fire LAB. - 5% discount on the entire webshop* - Use code Spring fever5

The expert in outdoor cooking & fires

Free shipping from €75

Pay afterwards with Klarna
Take your cooking to the next level with the Rivsalt BBQ Pro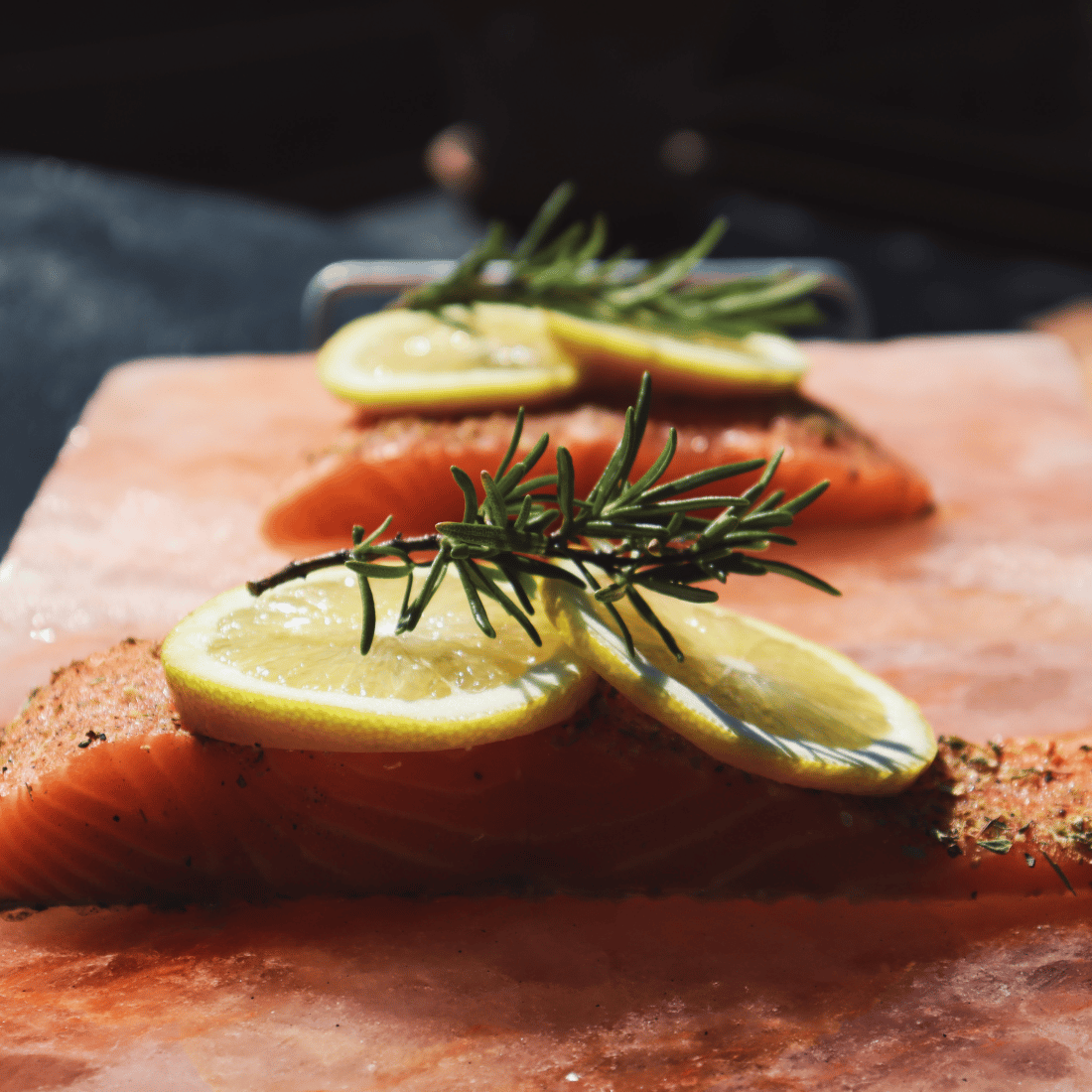 The BBQ Pro is not only an eye-catcher in your kitchen or on the BBQ
Are you a cooking fanatic or do you know someone who is always cooking and experimenting?
Then order this fantastic barbecue product and take your outdoor cooking skills to the next level.
The Rivsalt BBQ Pro is suitable for fish, meat, chicken, vegetables, as well as making the tastiest desserts.
This BBQ Pro kit with two Himalayan salt blocks and a metal tray allows you to cook food on salt blocks. Place the tray with the two salt blocks directly on your gas, induction or electric hob, put it in the oven or use it on your gas or charcoal grill.
Find out for yourself!
The perfect gift for someone who already has everything!
Looking for a fancy gift or something special for someone who already has everything and has nothing left on their wish list?
Then this is the ideal gift to surprise him/her with.
Rivsalt's entire collection is great for the foodie who loves pretty things and likes to cook in style.
The Swedish design brand has the cutest gourmet products in the house.
Invited to dinner at friends' houses?

Show appreciation with a gift from RIVSALT.
The products are known for making people curious and sparking conversations. A true Scandinavian gourmet experience and the perfect gift for all festive occasions.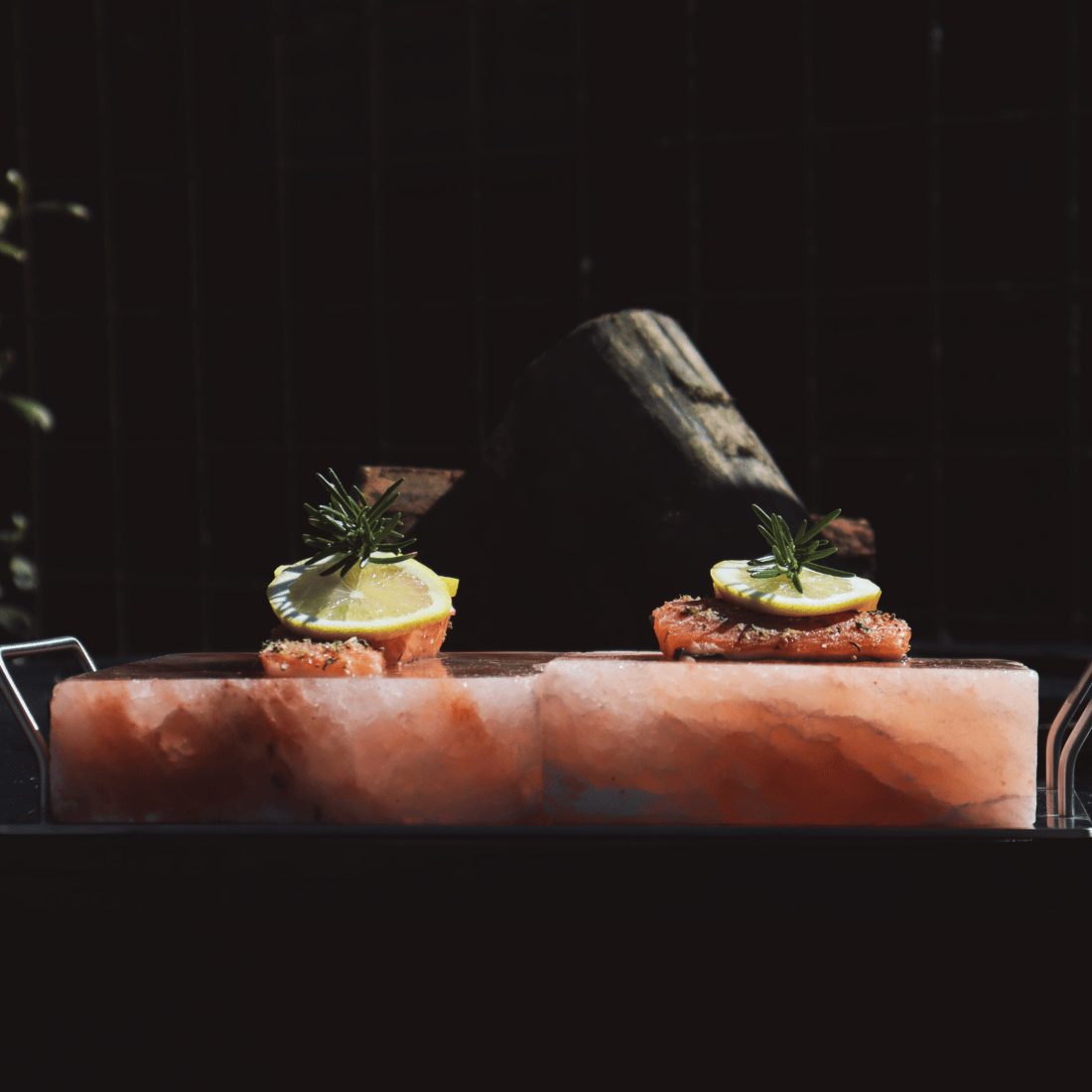 Tips for first-time use BBQ PRO KIT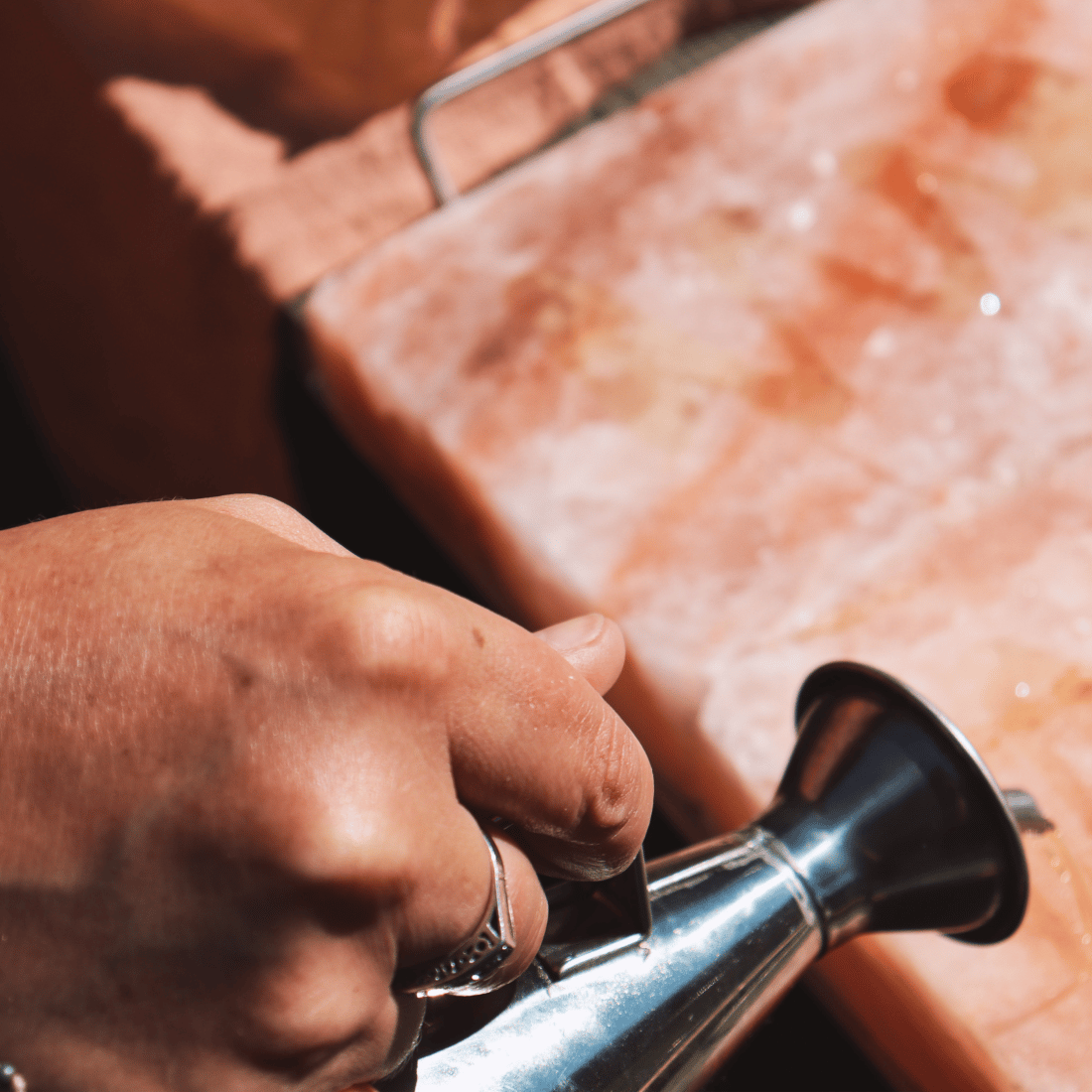 A fun way of cooking that also enhances flavour. The salt block has a natural non-stick surface and is used as a griddle on the barbecue. Ideal when grilling meat, fish, shellfish or vegetables.
Oil the surface and heat the block slowly to turn it into a sizzling cooking surface that evenly flavours your food. The salt block can also be chilled and used as a decorative serving plate, for example for fresh sushi.
Step 1. 
Coat the top of the Himalayan salt stones with oil.
Step 2.
Heat the salt stones gently at low temperature, this will prevent them from cracking or breaking. Twenty minutes at low temperature and then 20 minutes at medium temperature before you can start cooking temperature.
Step 3.
Check if the salt stone is ready for cooking the dish.
The salt stones are at a good temperature when you sprinkle a few drops of water on the stone and the water hisses!
Step 4.
Prepare food as you normally would. Do not use plastic cooking utensils, opt for metal or wood.
You can leave the salt stones on the BBQ and use them to cook on for a few hours!
Step 5.
Let the salt stones cool until they return to room temperature.
Step 6.
Clean the salt stones with a soft sponge and remove any residue. Try to keep the stones as dry as possible. In any case, do not wet them under the tap!
Step 7.
You can wash and dry the metal base of the BBQ PRO by hand. Not suitable for the dishwasher!
Step 8.
Clean up and store at room temperature.