The expert in outdoor cooking & fires

Pay afterwards with Klarna
5% korting voor abonnees. Meld je snel aan voor onze nieuwsbrief!

The expert in outdoor cooking & fires

Pay afterwards with Klarna
Spicy spruitjes met herfstaardappels en vega maantjes!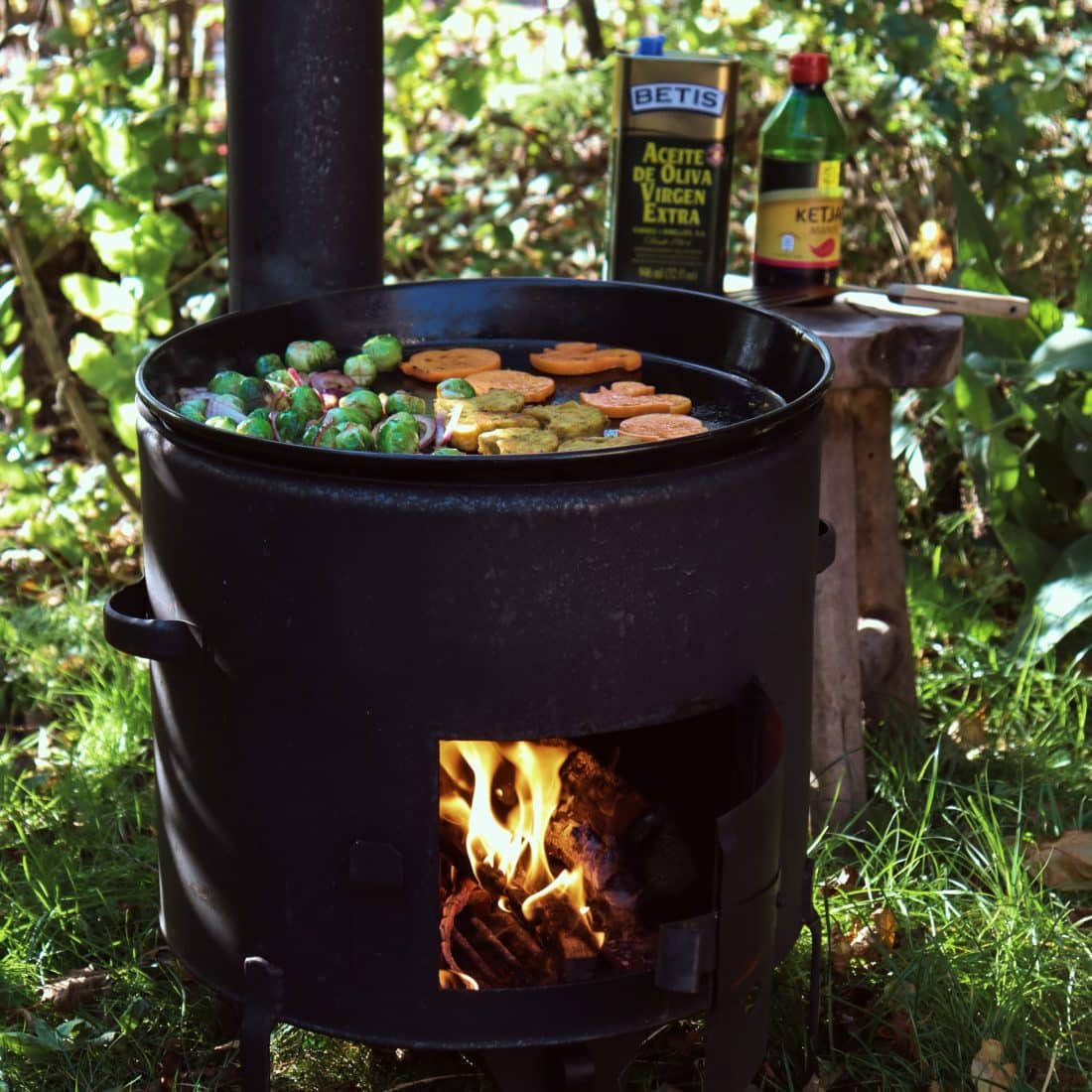 Spruitjes: of je er nu wel of niet gek op bent, het is een groente die regelmatig op onze diner borden verschijnt. De originele benaming voor spruitjes zijn spruitkool, maar in de volksmond wel beter bekend als de spruitjes. Het is een koolsoort waarbij de okselknoppen door ons als mens gegeten worden. Een spruitje is ook echt een wintergroente en dus heerlijk te bereiden met wat kouder weer. Spruitjes zijn sterkte groentes, ze overleven makkelijk een strenge vorst met wel temperaturen tot -15 Celsius! Veel mensen eten de spruitjes het liefst 'als de vorst erover heen is gegaan', hierdoor zou de smaak beter zijn. Daarnaast zitten spruitjes boordevol vitamine C.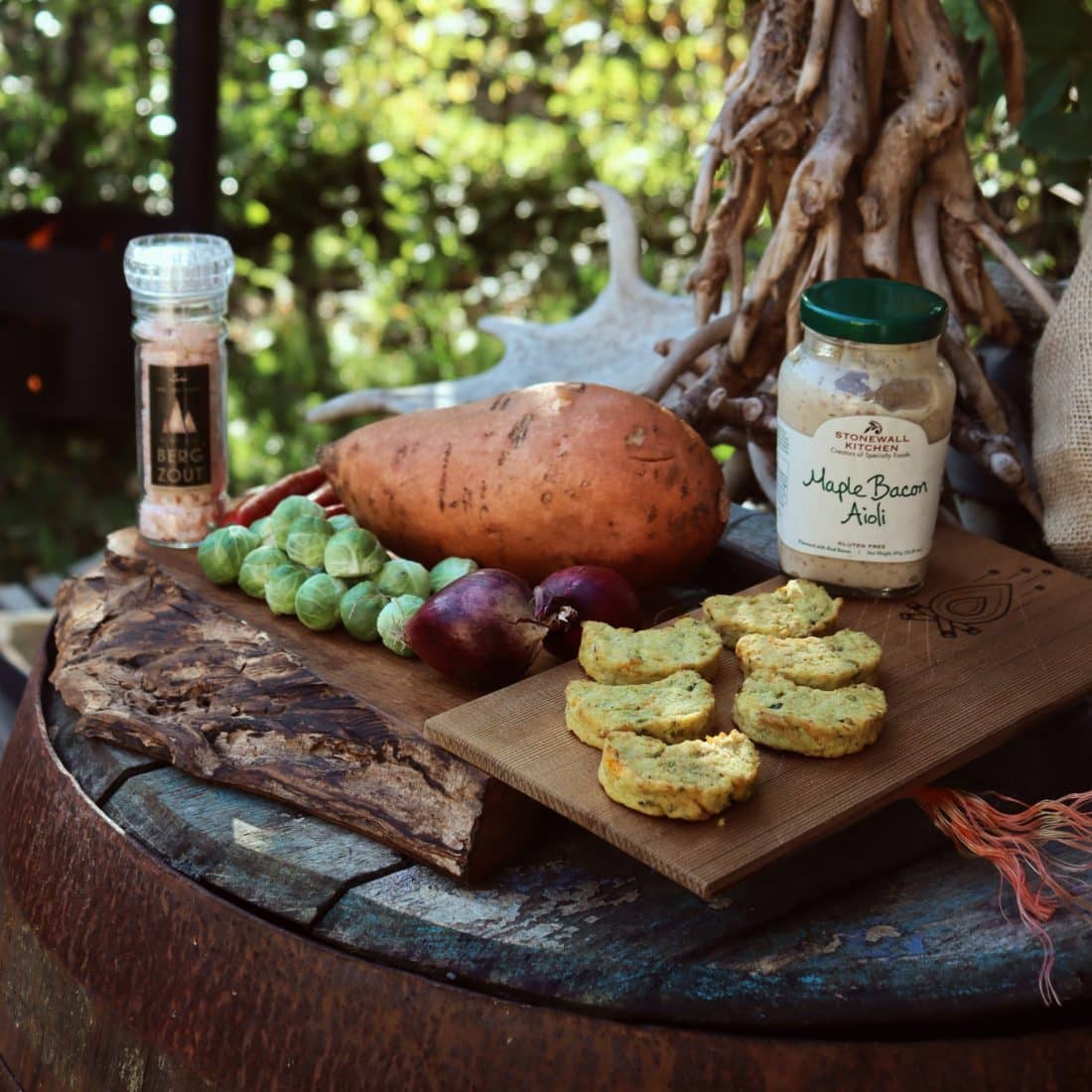 Voor dit gerecht heb je de volgende ingrediënten nodig:
Één grote, zoete aardappel
Vegetarische maantjes (of ander (vegetarisch) vlees)
Na dat je alle ingrediënten en keukengerei hebt verzameld, kan je aan de slag! Lees gauw verder voor het hele recept.
Als eerst steek je de buiten kookkachel aan. Verzamel wat hout en gebruik eventueel lucifers om het hout te laten branden. Laat het vuurtje een beetje opstoken. Ondertussen kan je de groente kan snijden: verwijder de achterkant van de spruitjes, snij de ui in dunne reepjes en het pepertje in kleine stukjes. De zoete aardappel gaan we iets anders snijden dan normaal: we snijden de zoete aardappel eerst in plakjes á 2 cm. Vervolgens pakken we de herfstvormpjes en drukken deze in het middenstuk van de plak. Zo krijg je dus een vormpje uit je zoete aardappel! Vervolgens pakken we een bakplaat en leggen er een stuk bakpapier in. Leg nu de spruitjes, ui, zoete aardappel en vega maantjes in de plaat. Het rode pepertje komt later aan bod!
Als de buiten kookkachel goed is opgestookt, kunnen we beginnen met koken. Doe een BBQ handschoen aan, tegen de hitte, en giet wat olijfolie op de bakplaat die verhit is door de buiten kookkachel. Laat de olie heel even opwarmen. Doe nu de spruitjes erop en bak deze goed door. Doe daarna de ui, zoete aardappel vormpjes en vega maantjes bij de spruitjes. Laat het geheel even goed doorbakken. Doe als laatste nog het rode pepertje erbij met wat ketjap en laat dit ook nog heel even meebakken. Als alles klaar is kan je met de spatel de ingrediënten op een bord scheppen. Doe als finishing touch nog een beetje Maple Bacon aioli bij het gerecht voor een volle smaak. Bon appetit!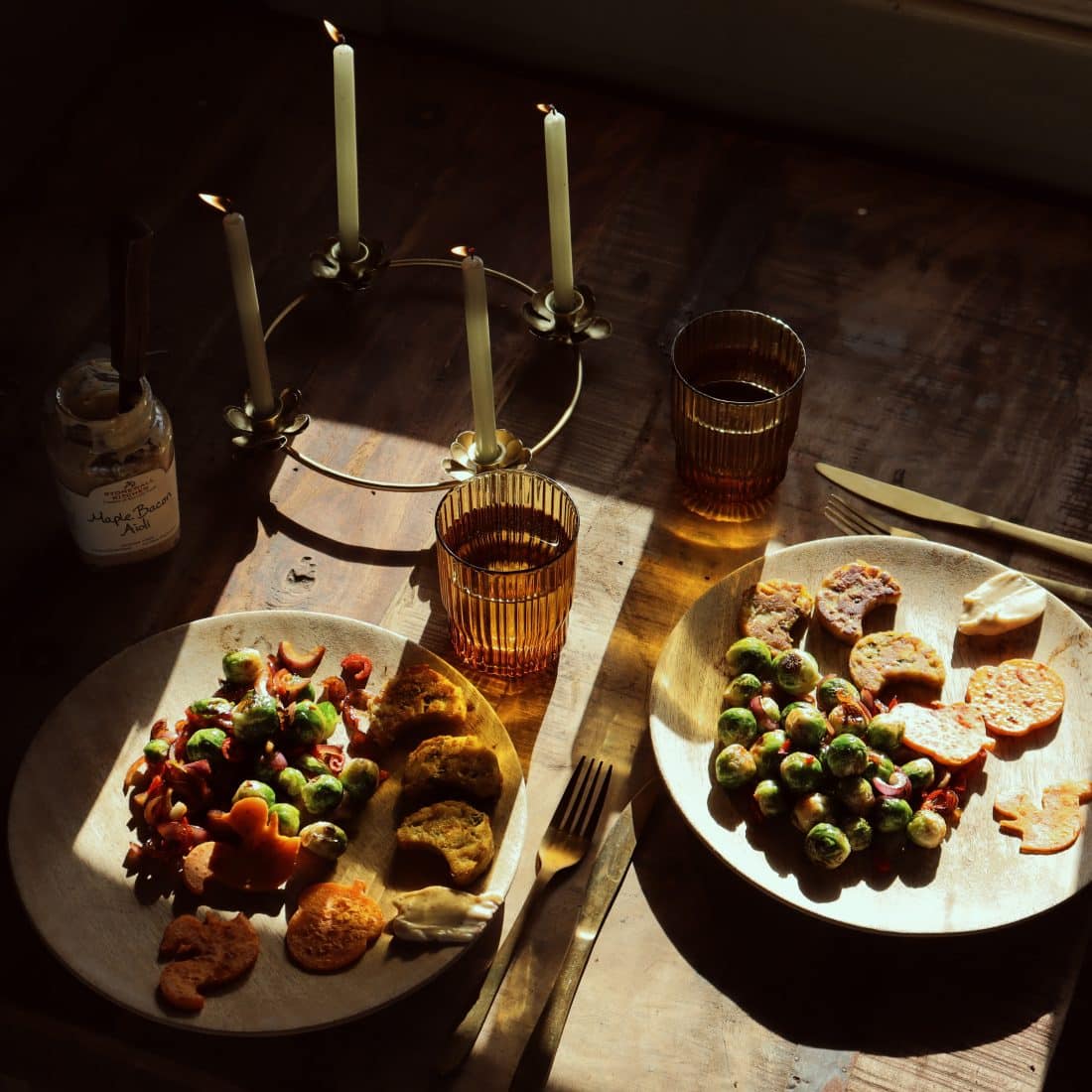 Ben jij ook enthousiast geworden over buiten koken & fikkie stoken? Dan ben je bij VUUR LAB. aan het juiste adres! Wij hebben een breed assortiment met alle producten die jij nodig hebt voor outdoor cooking & wellness. Waar wacht je nog op?! Krijg deze maand zelfs 5% korting boven op je bestelling!*
*t/m 30 november 2022, 23:59 uur