The expert in outdoor cooking & fires

Free shipping from €75

Pay afterwards with Klarna
March discount at the Fire LAB. - 5% discount on the entire webshop* - Use code Spring fever5

The expert in outdoor cooking & fires

Free shipping from €75

Pay afterwards with Klarna
Transform your veranda into a cosy Winter Lodge
Creëer een fijne plek waar je heerlijk comfortabel kunt chillen bij een gezellig vuurtje
De winterperiode is aangebroken, tijd om het extra gezellig te maken op de veranda of onder de overkapping. Luister naar je favoriete podcast, speel een mooi stukje muziek op de gitaar, of daag je huisgenoot uit tijdens een potje schaken, maak een vuurtje met de VUUR LAB. buiten kookkachel, kook buiten en geniet!
Wij maakten dit weekend een makkelijk en verwarmend herfstrecept, lees gauw verder..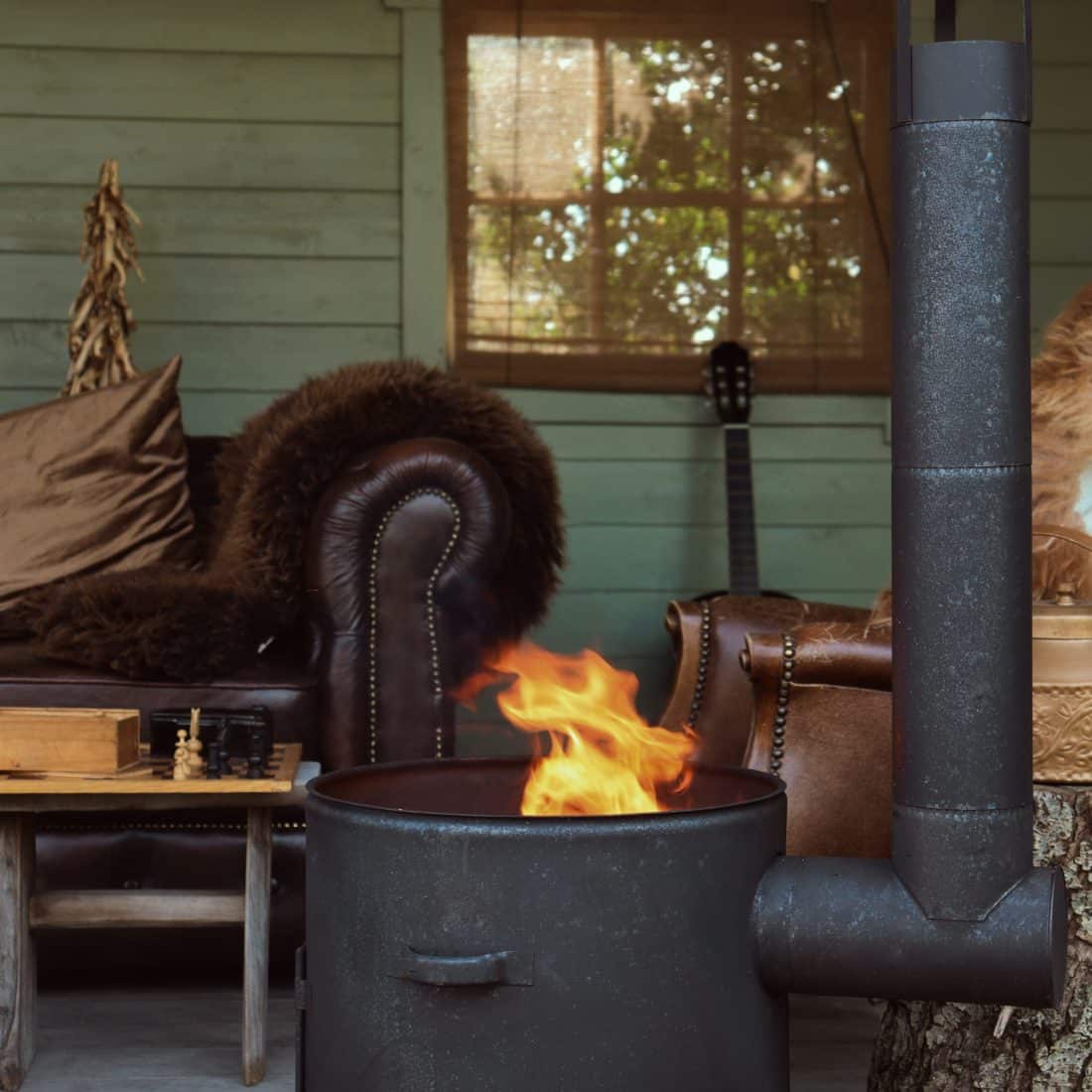 Ontspannen en genieten!
Maak iedere week een paar uurtjes vrij in je agenda om even heerlijk op te laden en ontspannen op je eigen veranda of onder de overkapping onder het genot van een heerlijk drankje. Dat is toch ultiem genieten.
Altijd maar hollen en haasten, dan loop je jezelf voorbij! Plan af en toe ME-TIME in. Daar hoef je niet niet persé een hutje op de hei voor te boeken, creëer in een handomdraai een fijne Winter Lodge in je eigen tuin. De dagen worden steeds korter en kouder, ondanks dat is het fijn om heerlijk lang buiten te zijn. Steek de outdoor stove aan, en een paar sfeervolle buitenkaarsen in blik.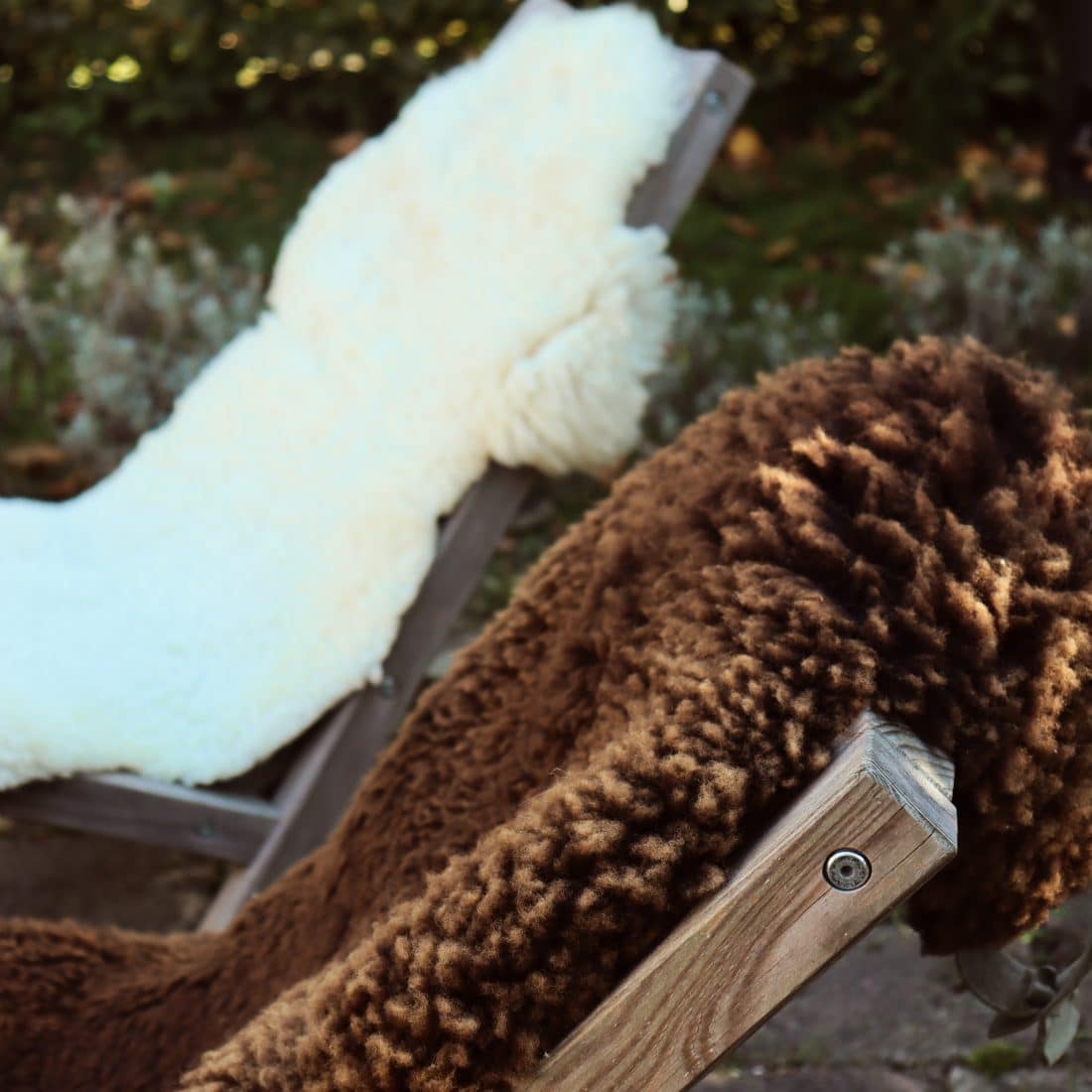 Verwen jezelf met een mooie fieldchair inclusief dikke schapenvacht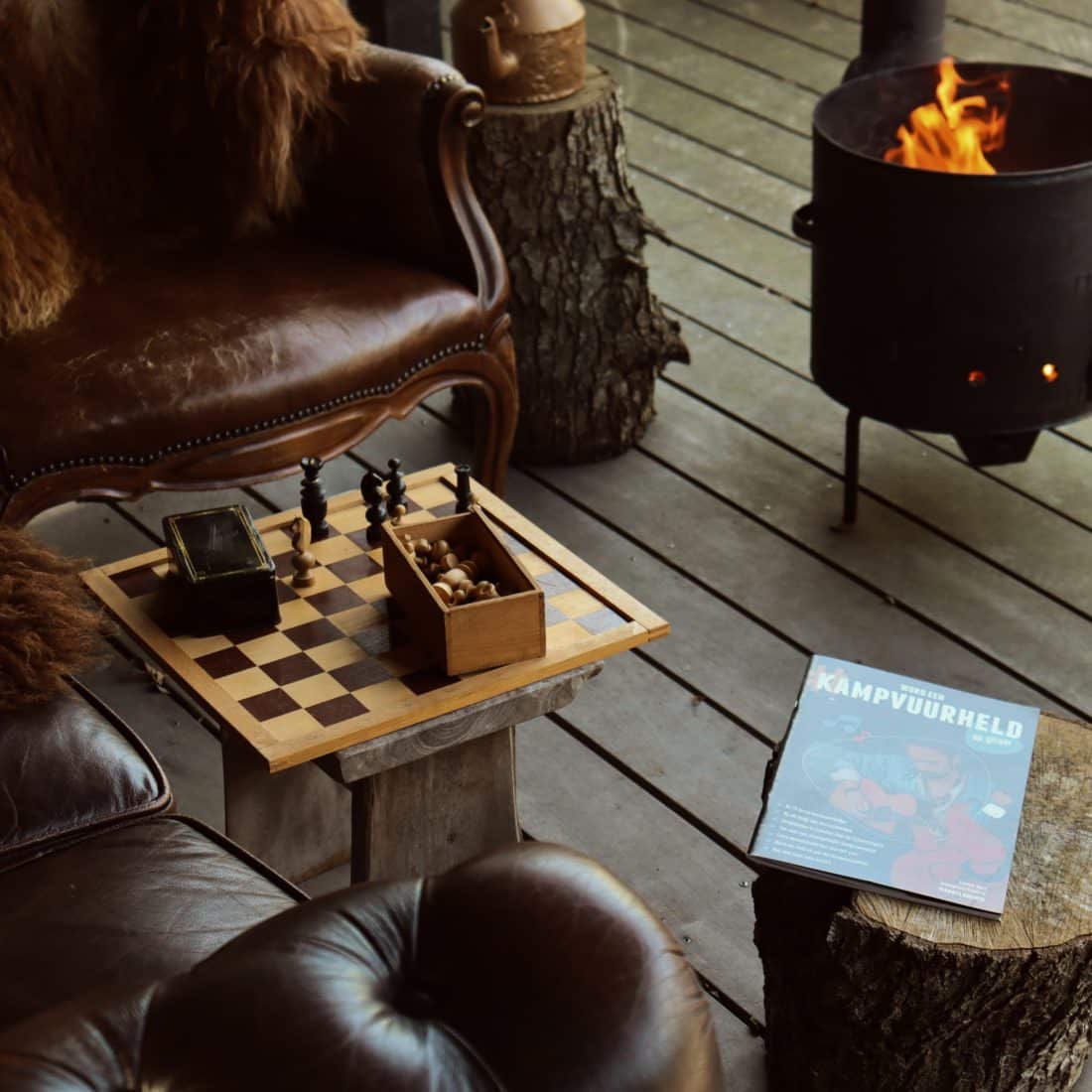 Luister naar Winter Lodge Playlist op Spotify
Met deze heerlijke playlist op het VUUR LAB. Spotify kanaal, kun je heerlijk wegdromen op een warme schapenvacht onder het genot van een hapje en drankje. Of lees een heerlijk boek met een achtergrond muziekje. Wij hebben een fijne muziekmix gemaakt met jazzy en dreamy sounds.
Enjoy!
P.S. heb je een mooi nummer wat je wilt toevoegen aan deze lijst? Laat het ons weten via info@vuurlab.nl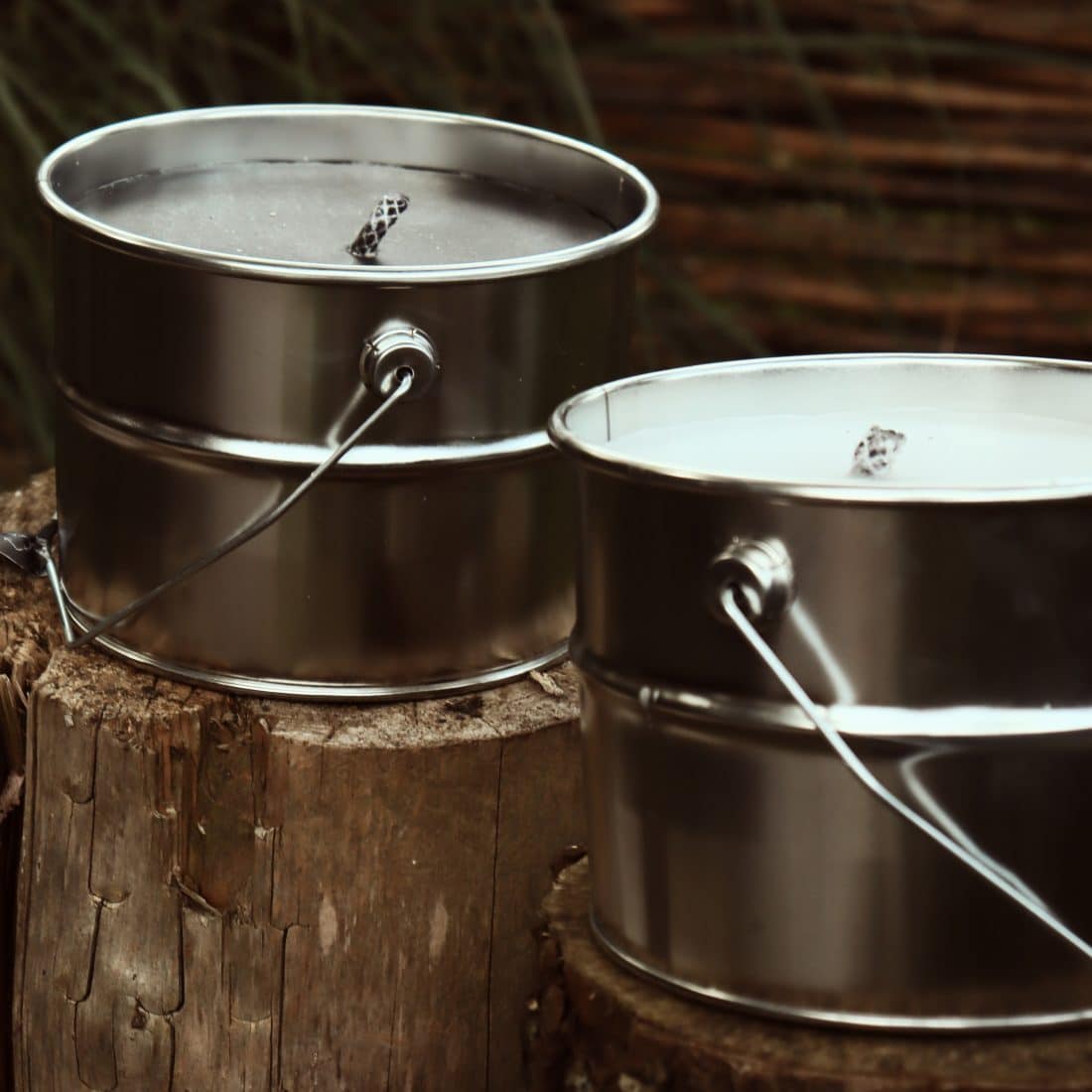 Herfstrecept met gegrilde pompoen, rode ui en verwarmende Ayurvedische kruiden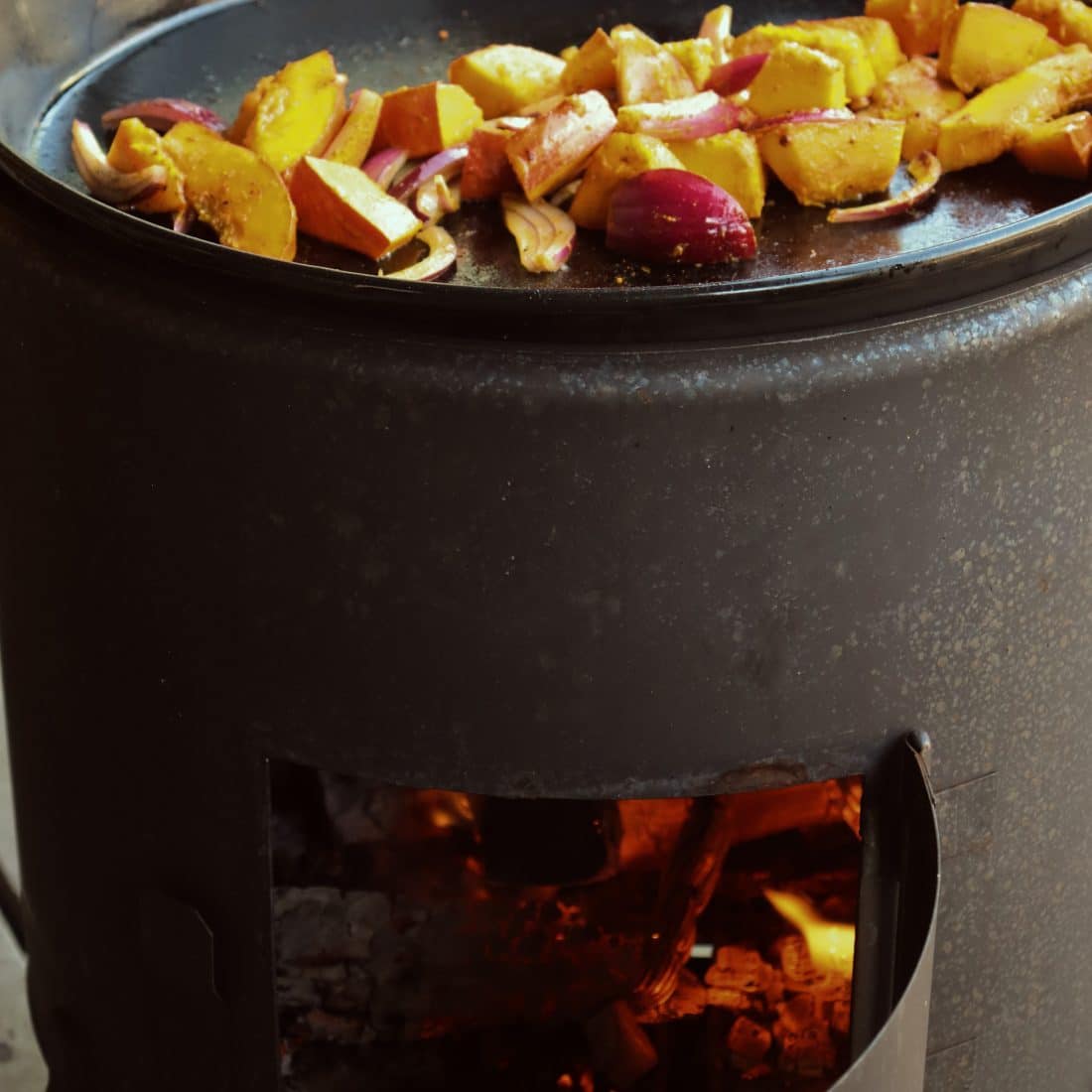 Maak dit lekkere herfstrecept met pompoen, rode ui en verwarmende Ayurvedische kruiden.
What do you need?
1 Biologische pompoen
2 rode uitjes
Snijplank
Mes
BBQ handschoen(en)
1 theelepel Ras-el-hanout kruiden
1 theelepel kurkuma
Eetlepel bakolijf olie van Betis
Naar smaak: Roasted salt of India van The Man With the pan
Outdoor cooking stove with griddle
Wood
Hoe maak je het recept met Gegrilde pompoen, rode ui en verwarmende Ayurvedische kruiden?
Was de pompoen goed af, meestal zit er nog wat kleigrond aan :). Snij de pompoen in grove stukken. Gebruik een scherp mes, let bij het snijden wel goed op dat je jezelf niet bezeerd, want de pompoen is meestal vrij hard en niet zo makkelijk te snijden.
Pel de rode uien en snij deze in stukjes.
Steek de buiten kookkachel aan en laat het hout even verkolen, dit duurt meestal rond de 20 minuutjes, hierna kun je af en toe een klein houtje erop leggen, hou het vuur goed in de gaten.
Besprenkel de bakplaat met de olijfolie (wij schenken deze uit een oliekannetje).
Laat de olie eerst even warm worden en leg de pompoen dan ook de bakplaat, bak een minuut of twee en voeg de Ayurvedische kruiden toe, schep  alles goed door de pompoen. Voeg hierna de rode ui toe en bak de uitjes lekker mee. Laat 5 minuutjes doorbakken en voilà klaar is jouw lekkere herfstpompoen!
Serveer er eventueel een salade bij.
Eet smakelijk!